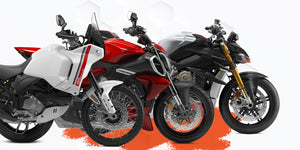 Shopping for a 2023 Ducati? Check out our Buyer's Guide!
If you're in the market for a new motorcycle, and you're enamored by the scintillating Italian offerings, then the 2023 Ducati lineup is sure to have something that will catch your eye. However, with so many models to choose from, it can be difficult to know which one is right for you. In this blog post, we'll take a closer look at the 2023 Ducati lineup and offer some tips on how to choose the best Ducati motorcycle for you.
Come along as we perform a "before" dyno run with the stock exhaust at Motorsport Exotica, then drop the bike off at Ducati Westlake for the instal...
Follow me as I prep my V4 Speciale for its first track day at Laguna Seca! I'll walk you through installation of the Throttle Spacer Kit (www.ducat...